Please review the advertising and marketing services we offer.
Reach out to us if you have any questions info at 321gaming dot com
Monthly Flyer
Printed and handed out at local target market locations.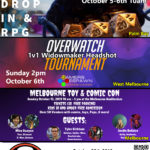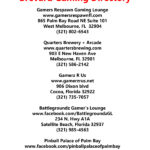 Front ad space
Graphic or text contained (Width 1650px Height 450px), back listing included.
$40
Back listing
Text only (12pt + 5 lines)
$10
---
Site advertising
www.321gaming.com
Footer Image
Dimensions: 300px by 150px
$10/month
Blog Post
Your post on our blog space. No word limit and up to 10 images (2MB max). Have an event to share, game review, or other site related post, do that here. All content must be suitable for all ages, no explicit content.
$5
321Gaming Site Page
Your own page, linked through Top Menu on 321Gaming.com
Storage limited to 100MB
$80
---
Social Media
Need to spread a message, Social Media is the place to do it.
We will post your content as a campaign on our channels.
Need Social Media Management, we can do that too.

Instagram or Facebook
https://www.instagram.com/321gamingdotcom
https://www.facebook.com/321gaming

1 Wall post + 24 Story post
Your Ad (description + tags)
$10
3 post Same Day
3 Wall posts + a 24 Story post
Your Ads (description + tags)
$25
Monthly Pack
8 wall posts spread throughout 30 days + 4, 24 hour story posts
Your Ads (description + tags)
$50
Need help starting a Social Media presence? Contact us for a quote.
- Website creation, social media package (logo, banner, icons), start or manage Instagram, Facebook Business page, YouTube or Twitch accounts.

YouTube & Video Services
We offer free and paid YouTube services.
321 Gaming's Channel
Place of Business Review and Interview
FREE - Let us review your location and record an interview for an edited 2 minute video spot on our channel.
Original copy of this video $100

YouTube Channel Ad - Need to advertise or share a video on our channel? We accept uploads up to 5 minutes.
$25 per upload
Basic Edited Video - Includes intro, outro, copyright free music, and a few transitions. Max edited length 5 minutes.
Deposit required.
$100
---
Apparel
We have branded apparel! We change designs seasonally, prices are based per season.
Contact us for a collaboration design!

Logo Placement:
Back T-Shirt or Longsleeve Sweatshirt
Top Center, Left Shoulder, Right Shoulder
$10
Bottom Center, Bottom Left, Bottom Right
$5
Front T-Shirt or Longsleeve Sweatshirt
Pocket Area
$40
Bottom Left, Bottom Right
$5
Accepting payments via PayPal only at this time.
Paypal: gnarlyduck@321gaming.com
*Prices & terms on this page are subject to change. Current customers will be notified in advance.